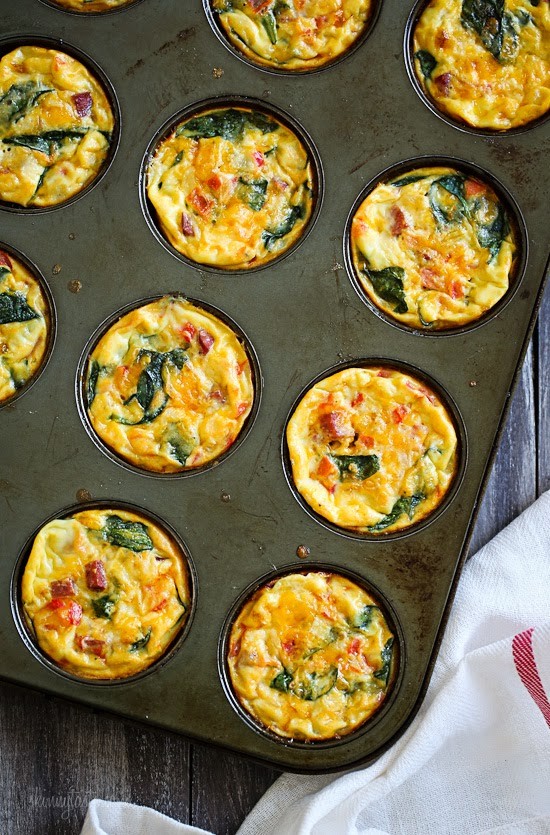 Ingredients:
5 eggs
3 egg whites
8 ounces mushrooms, sliced
1 cup fresh spinach
1 cup 1% or skim milk
¼ cup shredded cheese
¼ cup sliced scallions (optional)
Directions:
Position a rack in the center of the oven; preheat to 325 degrees. Coat a nonstick muffin tin generously with cooking spray or line with foil baking cups.
Whisk eggs, egg whites, and milk in a medium bowl. Divide egg mixture evenly among the prepared muffin cups. Sprinkle the vegetables and cheese into each cup.
Bake until the tops are just beginning to brown, 25 minutes. Let cool for 5 minutes. Flip the quiches out of pan and let cool completely.
Tip: Can use any preferred vegetable combination. Try red peppers, broccoli, or tomatoes.
Nutrition Information:
Serves: 12
Serving Size: 2 quiches
Using skim milk: Calories: 121; Total Fat: 5g; Saturated Fat: 2g; Cholesterol: 160 mg; Sodium: 189 mg; Potassium: 162 mg; Total Carbohydrate: 4g; Dietary Fiber: 1 g; Sugar: 3g; Protein: 14g.