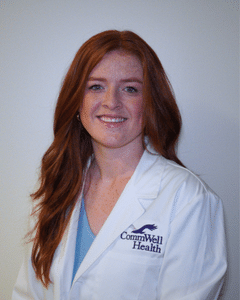 Leeanna E. Beasley, MPAP, MSPH, PA-C
3331 Easy Street Dunn,North Carolina United States 28334
Leeanna earned her bachelor's degree, Master of Science in Public Health, and Master of Physician Assistant Practice from Campbell University.
Leeanna's clinical interests include women's health, primary care, and acute care. She is also interested in preventive care and contraceptive management.
Leeanna is a North Carolina Academy of Physician Assistants member.
"As a physician assistant, I am passionate about rural medicine and women's health. Being from the area, I look forward to providing quality care to my community. I enjoy it when patients play an active role in their care."
Leeanna enjoys reading, traveling, watching tv, and playing with her dog Axel.
The patient rating score is an average of all responses to care provider related questions on patient satisfaction surveys conducted by Crossroads Group, Inc. Responses are measured on a scale of 1 to 5 with 5 being the best score.