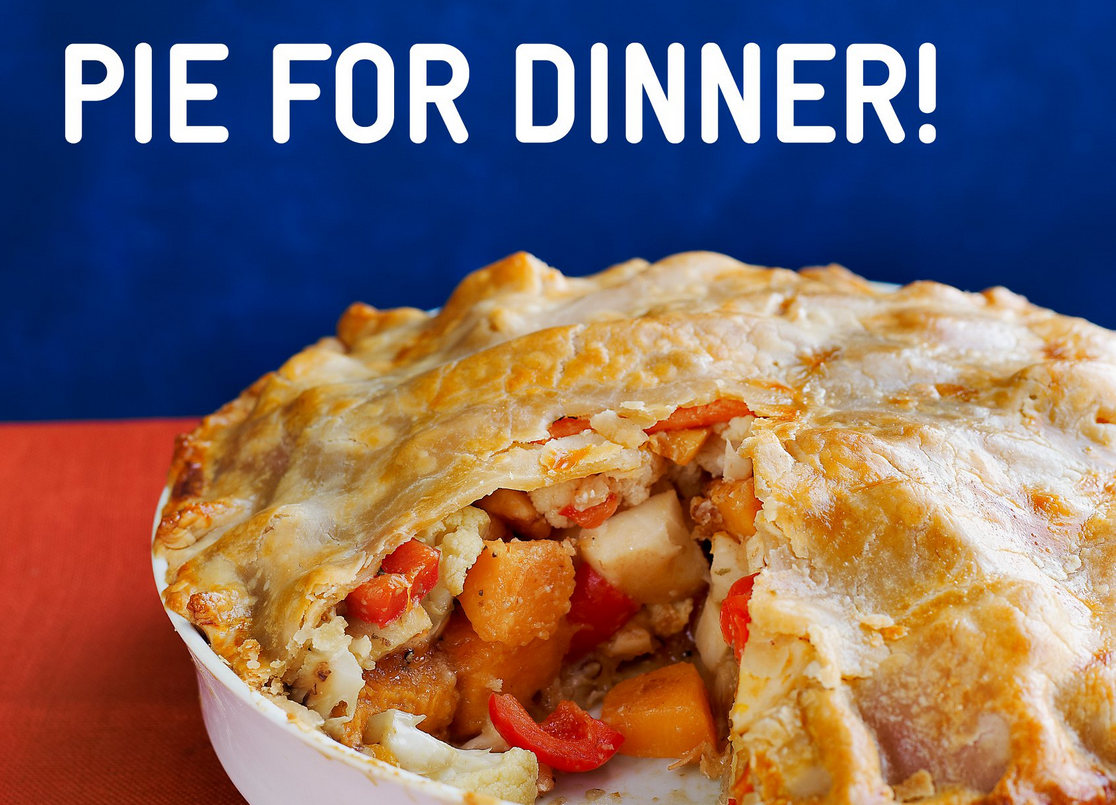 Ingredients
Ingredient Checklist
1 small cauliflower, cut into florets, about 4 cups
1 small butternut squash, peeled and cut into 1-inch pieces
2 medium parsnips, peeled and cut into 1/2-inch pieces
1 cup baby carrots
1 sweet red pepper, cut into 1-inch pieces
2 tablespoons olive oil
½ teaspoon salt
½ teaspoon black pepper
1 cup vegetable broth
1 tablespoon cornstarch
¾ teaspoon dried thyme
¾ teaspoon dried oregano
2 tablespoons plain bread crumbs
1 package (15 ounces) refrigerated rolled piecrusts
2 tablespoons grated Parmesan cheese
1 egg beaten with 1 tablespoon water
Directions
Instructions Checklist
Step 1Heat oven to 450 degrees F. Coat a large baking pan with nonstick cooking spray.
Step 2In a large bowl, add cauliflower, squash, parsnips, carrots and pepper. Toss with olive oil and 1/4 teaspoon each of the salt and pepper. Spread out on the baking pan in a single layer. Bake at 450 degrees F for 30 minutes, stirring halfway.
Step 3Meanwhile, place the broth in a medium-size saucepan and stir in the cornstarch. Bring to a boil, lower heat and simmer 1 minute until thickened. Stir in the thyme, oregano and remaining salt and pepper. In a large bowl, gently toss roasted vegetables, bread crumbs and sauce.
Step 4Fit one of the piecrusts into a deep-dish 9-inch pie plate. Sprinkle 1 tablespoon of the cheese over the bottom. Spoon in vegetable mixture and sprinkle with remaining 1 tablespoon cheese. Place the second piecrust on top and crimp crusts together. Pierce a few times with a paring knife to vent. Brush lightly with the egg-water mixture.
Step 5Bake at 450 degrees F for 15 minutes. Lower heat to 425 degrees F and bake for an additional 30 minutes. Remove from oven and allow to cool slightly before slicing.
Prep: 25 mins
Bake: 45 mins
Cook: 1 min
Bake: 30 mins
Total: 1 hr 41 mins
Servings: 8
Nutrition Facts
Per Serving:
360 calories; fat 18g; cholesterol 24mg; saturated fat 6g; carbohydrates 46g; mono fat 8g; poly fat 2g; insoluble fiber 5g; sugars 5g; protein 5g; vitamin a 9183.6IU; vitamin c 59mg; thiamin 0.2mg; riboflavin 0.2mg; niacin equivalents 2.2mg; vitamin b6 0.3mg; folate 88.7mcg; vitamin b12 0.1mcg; sodium 534mg; potassium 580mg; calcium 80.8mg; iron 1.8mg.