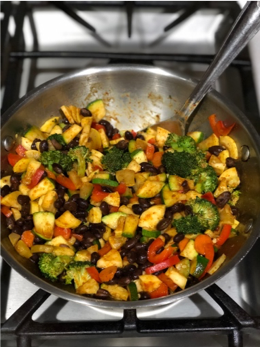 Mexican Quesadillas with Vegetables and Black Beans
Serves 8
Ingredients:
1 tbsp olive oil
1 zucchini, diced into small pieces
1 yellow squash, diced into small pieces
1 red bell pepper, diced into small pieces
1 medium carrot, diced into small pieces
1 small broccoli head, chopped
1 can (15 oz) black beans, drained and rinsed
2-3 Tbsp Mexican taco seasoning
1 tsp lemon juice
8 whole wheat soft tortillas (for quesadillas)
2 cups shredded Mexican cheese
1 jalapeno, chopped (optional)
Directions:
Heat the olive oil in a skillet and add all the vegetables, black beans, and taco seasoning.
Stir well and let it cook until all vegetables are soft. If the mixture gets watery, keep sautéing until the water evaporates.
Add lemon juice and mix well.
For quesadillas, heat a flat griddle and place one tortilla on it. Layer one half of the tortilla with ¼ cup cheese and 1/8th portion of the filling. Close the quesadilla with the other half of the tortilla. Flip a few times until it is well done on both sides.
Cut it into half or quarters. Serve with a side of sliced jalapenos and/or fresh avocado.
Note: The same filling can be used to make soft tacos or burritos. Also, other vegetables such as mushrooms, sweet corn, onions, etc. can be added or substituted according to taste preference and availability.
Serving Size – 1 Quesadilla
Nutrition Information per Serving (excludes avocado or other sides)*:
Calories – 315
Fat – 13 grams
Protein – 15 grams
Carbohydrates – 36 grams
You may also enjoy: