Updated: 10/22/2021
Nov. 30, 2021 – End of the beneficiary choice period to change PCP. Beneficiaries shall be allowed to change their AMH/PCP without cause up to one time per year thereafter (2nd instance).
What Beneficiaries Need to Know on Day One Fact Sheet
Health Plan Contacts and Resources
Contact CommWell Health at 910-567-7057 for assistance.
---
Most people will get the same Medicaid services in a new way – through health plans.
You will be able to choose the health plan that is best for you. A health plan is a group of doctors, hospitals and other providers. They work together to give you the health care you need. Everything will come from the same plan. This includes physical health, mental health, and medicine. Some health plans provide added services like programs to help you quit smoking.
You will also choose a primary care provider (PCP). A PCP could be your family doctor, clinic or other health care provider. They will help you with your health care needs.
Many people who receive Medicaid will soon get to choose a health plan and a primary care provider.
CommWell Health wants to continue being your primary care provider. You can use the contact information below when choosing your primary care provider:

To choose your primary care provider and enroll in a health plan, please
Visit www.ncmedicaidplans.gov or call 1-833-870-5500.
You will "Search by Organization for a Plan"

Type in Organization Name: TRI COUNTY COMMUNITY HEALTH COUNCIL
CommWell Health will work with ALL health plans
Contact Information for CommWell Health: 910-567-7057
Most people receiving Medicaid must choose a health plan. To learn more, go to Who must choose a health plan?
A small number of people will not need to choose a health plan because of the type of health services they need. They will stay enrolled in NC Medicaid Direct. To learn more, go to NC Medicaid Direct services.
If you have behavioral health, substance use, intellectual and developmental disability (I/DD) or traumatic brain injury (TBI) support needs, you may ask to stay in NC Medicaid Direct, including your Local Management Entity-Managed Care Organization (LME-MCO). Use the Request to stay in NC Medicaid Direct and LME-MCO: Beneficiary form.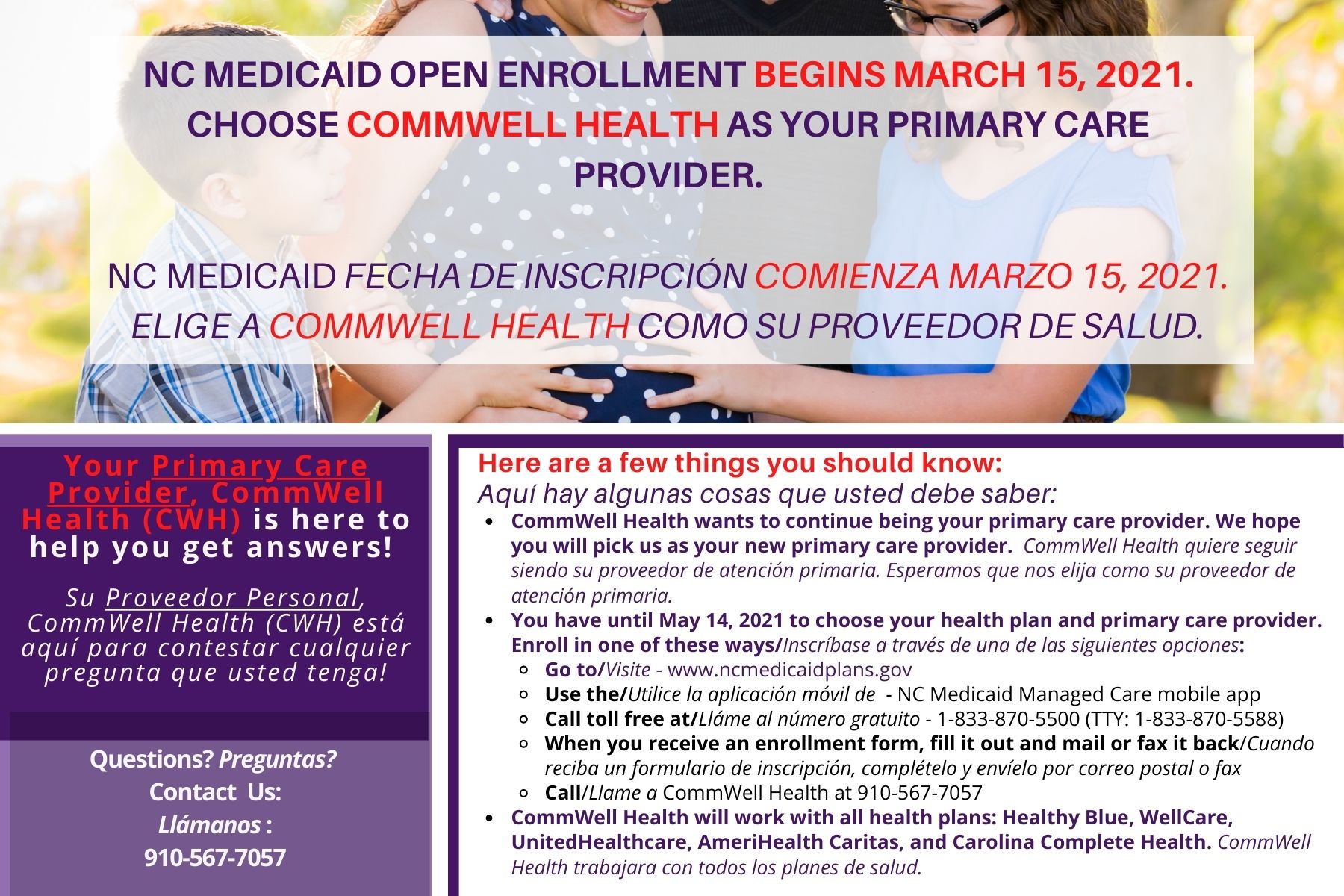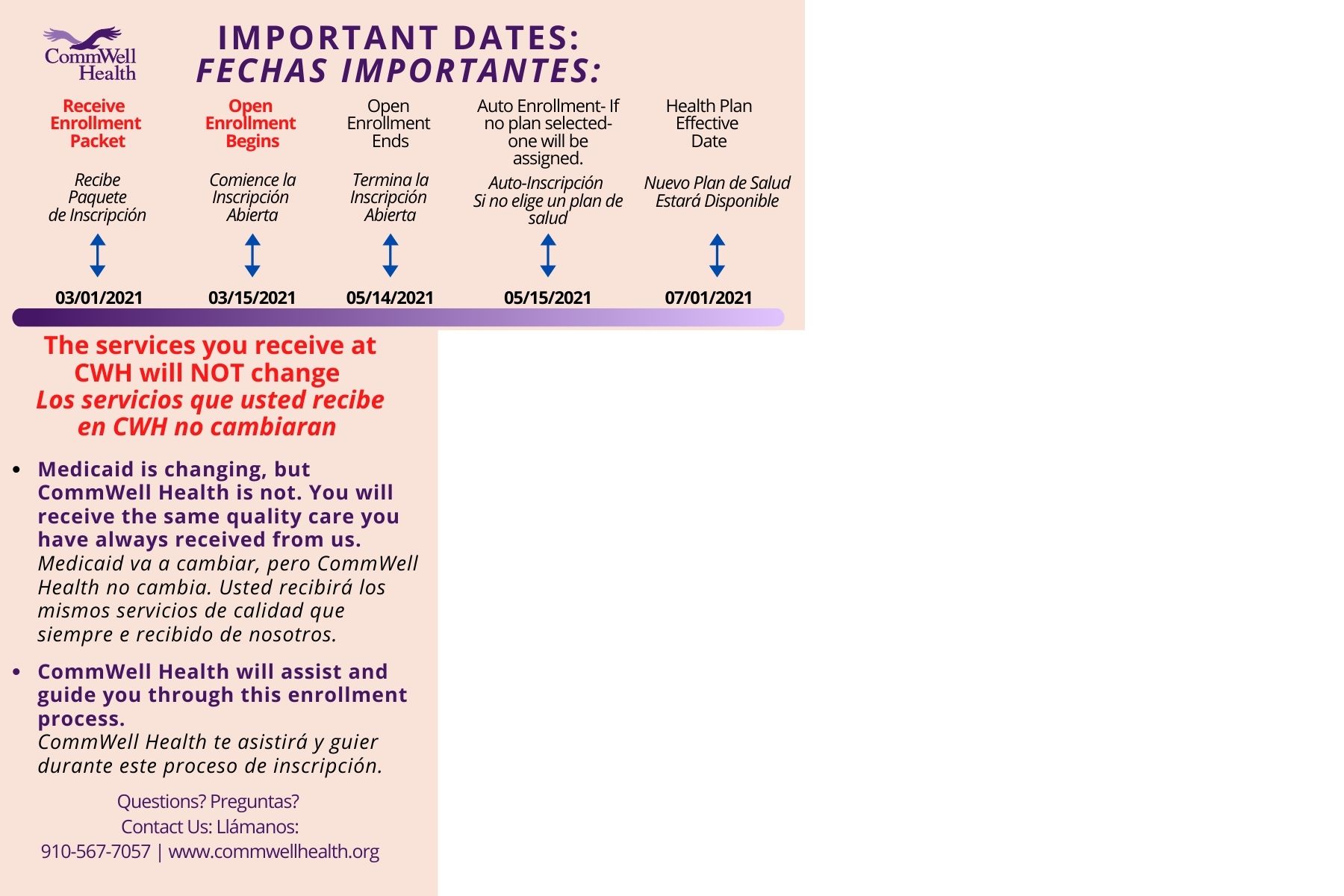 To learn about the basic benefits and services that all health plans offer, and services that are not covered, go to Benefits and services.
Questions? Preguntas? Contact Us – 910-567-7057
---
The services you receive at CWH will NOT change | Los servicios que usted recibe en CWH no cambiaran
Medicaid is changing, but CommWell Health is not. You will receive the same quality care you have always received. | Medicaid va a cambiar, pero CommWell Health no cambia. Usted recibirá los mismos servicios de calidad que siempre e recibido
You may have noticed that CWH is not showing up as an approved provider when you contact the enrollment broker or sign-up online. This is because we are working to finalize all contracts. | Puede haber notado que CWH no se presenta como proveedor aprobado cuando se pone en contacto con el agente de inscripcion o se registra en linea. Esto es porque estamos trabajando para finalizar todos los contratos.
Additional online resources: