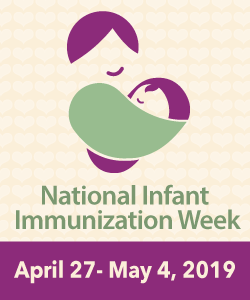 National Infant Immunization Week is the perfect time to learn about the vaccines your baby needs!
Visit CDC's site to learn about the 14 diseases vaccines prevent, view the latest immunization schedule, and get tips on how to comfort your baby during vaccine visits. https://go.usa.gov/xEspJExternal
Why Vaccinate?
On-time vaccination throughout childhood is essential because it helps provide immunity before children are exposed to potentially life-threatening diseases. Vaccines are tested to ensure that they are safe and effective for children to receive at the recommended ages.
#Parents: While your little ones may feel discomfort after getting vaccinated, the pain is temporary, and the protection is long term. In CDC's newest #HowVaccinesWork video, learn from Jack and his parents about what to expect. 
https://bit.ly/2O4MiL1

External
 #ivax2protect