Medicaid Expansion increases the eligible population to adults aged 19-64 who have incomes up to 138% of the federal poverty level.
For example, expansion gives health care coverage to single individuals making under $20,000 a year. Likewise, a family of three earning under $34,000 combined will now be eligible. Beneficiaries will get care the same way as existing Medicaid beneficiaries and be eligible for the same comprehensive benefits and copays as other non-disabled adults in Medicaid. More communications will be coming soon, and information about Medicaid Expansion is online in the FAQ (Spanish FAQ).
MedicaidExpansionFAQs_9.22.23c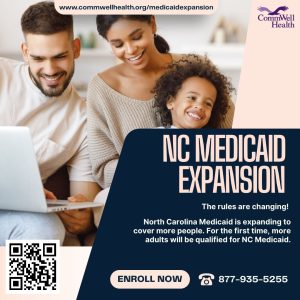 La expansión de Medicaid aumenta la población elegible a adultos de edad de 19 a 64 años que tienen ingresos de hasta el 138% del nivel federal de pobreza. Por ejemplo, la expansión brinda cobertura de atención médica a personas solteras que ganan menos de $20,000 al año. Del mismo modo, una familia de tres que gane menos de $34,000 en total ahora será elegible. Los beneficiarios recibirán atención de la misma manera que los beneficiarios actuales de Medicaid y serán elegibles para los mismos beneficios integrales y copagos que otros adultos no discapacitados en Medicaid. Pronto habrá más comunicaciones, y la información sobre la expansión de Medicaid está en Preguntas frecuentes aquí y Preguntas frecuentes en español aquí.
For Questions, visit: https://medicaid.ncdhhs.gov/questions-and-answers-about-medicaid-expansion
Source: https://www.ncdhhs.gov/news/press-releases/2023/09/25/nc-medicaid-expansion-will-launch-dec-1-2023