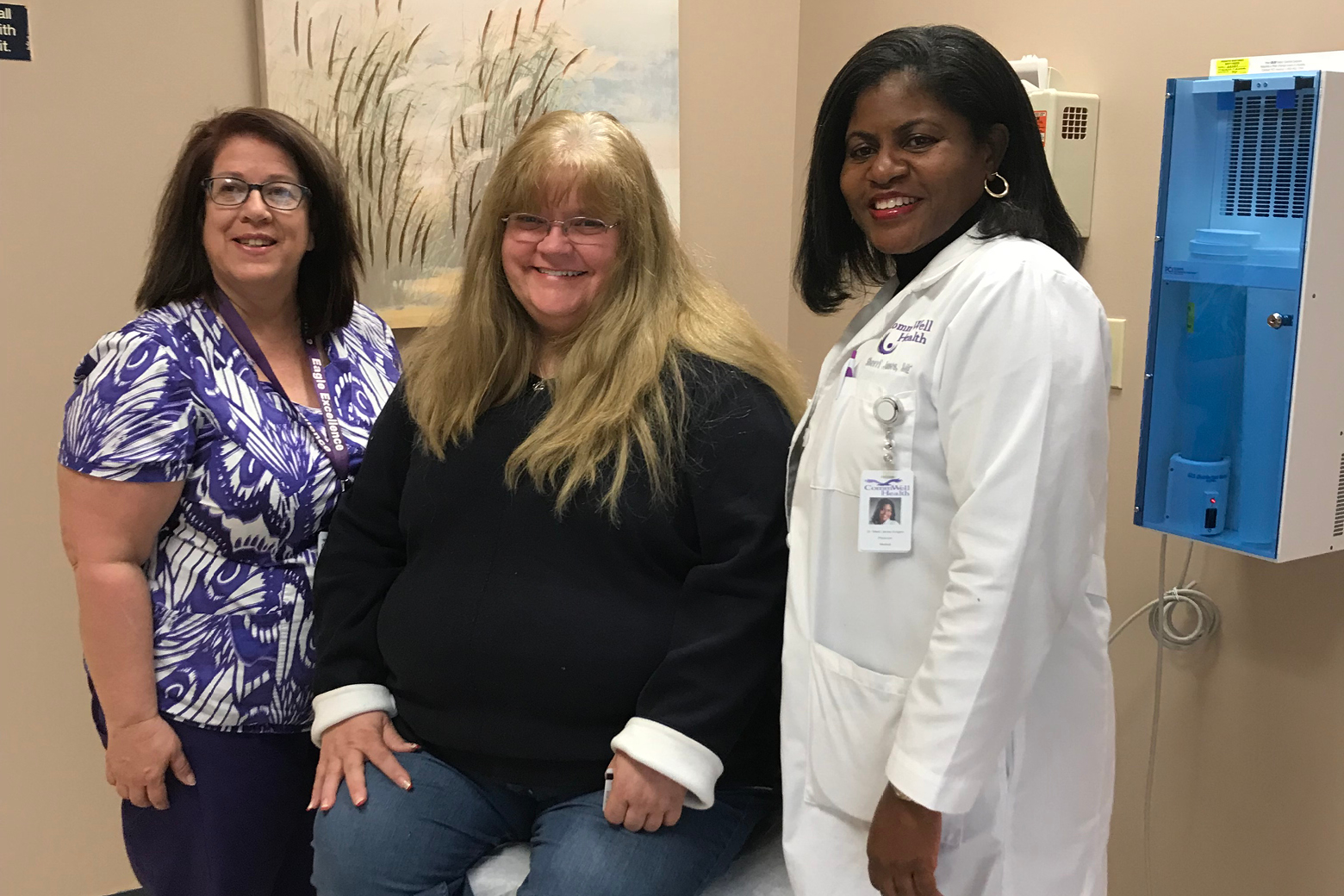 The patient population at CommWell Health, a North Carolina-based federally qualified health center, is 44 percent Hispanic with most only Spanish-speaking. And, according to the new guideline for the prevention, detection, evaluation and management of high blood pressure in adults from the American College of Cardiology and the American Heart Association, in the U.S. Hispanic patient population, 44 percent of men and 42 percent of women have hypertension.
To confirm a diagnosis or identify patients with white-coat hypertension, CommWell implemented a self-measured blood pressure (SMBP) monitoring program led by their health coach. 
---
This story is part of the AMA's Targeting Hypertension topic hub. Explore other Medical Topics That Matter.
---
For this population, said family physician Sherri James-Surgers, MD, the most prevalent conditions are diabetes, high blood pressure and high cholesterol. To help control BP, CommWell participated in an AMA pilot program for SMBP, which provided patients with at-home monitors with help from their health coach and medical assistant, Dale Mangum.
The SMBP data obtained with the guidance of a health coach helped to prevent misclassifications and ensure accurate diagnosis for improved patient outcomes. Here is how a health coach was able to obtain more accurate BP measurement data to enhance patient care and increase BP control in the Spanish-speaking population.
Improved understanding of lifestyle factors
Mangum worked directly with 14 patients that participated in the pilot. Patients completed seven days of BP monitoring and logged their measurements. She also instructed the patients to write down the type of exercise completed, what they ate and how they were feeling for that particular day. This allowed Mangum and Dr. James-Surgers to understand patients' lifestyle habits.
"There were some [patients] who needed follow-up visits and some we saw had possible white-coat syndrome where their blood pressure was fine during the day at home, but when they came into the office it was elevated," said Mangum.
If a patient had elevated BP during their visits, they would be placed on the SMBP program. Once placed, Mangum would speak with the patient and set up a time to discuss next steps. By understanding a patient's exercising and eating habits, she could offer suggestions for bringing down their BP by making healthy lifestyle changes, which could lead to better BP control.
Incorporate 
SMBP

 into daily health coaching

If a patient has elevated BP during their visit with Dr. James-Surgers, they are referred to Mangum. During their health coaching, she discussed the SMBPprogram and how to use the device at home.

The pilot has ended, but SMBP remains incorporated into regular health coaching from Mangum. She continues to speak with every patient about their BP. At each visit, she meets with the patient to discuss their exercising and eating habits, as well as what they can about them to bring down their BP.

A designated person, such as the health coach, was key to creating a successful SMBP program for CommWell," said Dr. James-Surgers. "If you don't have a designated person to go to and say, 'I have a patient for you,' and corral that patient and explain everything to them, they get lost in the shuffle."

The role of the health coach at CommWell will continue to be further defined to enhance BP control and patient care.

 
Overcoming barriers to care
With a majority of the patient population Hispanic and Spanish-speaking, CommWell overcame language barriers when addressing BP control. For example, one Hispanic patient lived alone. Mangum taught the patient's caretaker how to properly perform SMBP at home.
From understanding high blood pressure to how to measure and treat it, Target: BP™ offers key resources to ensure that what matters isn't lost in translation. To help, here is the Spanish version of the SMBP training video and consequences of high BP poster. An AMA membership means you're motivating millions to control hypertension. Join or renew today.