Harrells, NC – On June 15, 202, CommWell Health a Federally Qualified Community Health Center in Sampson County, will reopen a dramatically improved and enhanced Harrells location after extensive renovations.
CommWell Health Harrells has been serving the Harrells community and Sampson County community for over 18 years. The Rural Medical Services group established the Harrells clinic in 1975 as Four County Medical Center. In October 2005, the RMS group leased the building to CommWell Health. The board for RMS unanimously voted to dissolve on Oct. 5, 2021. As part of that decision, they donated the property to CommWell Health.
The renovation of the Harrells location reflects CommWell Health's commitment to quality and affordable primary care to all. The renovation includes a new main entrance, new lab area, special medication room, three exam rooms, care team room, expansion of the staff working area, accessible restrooms, new furniture, new flooring, ceiling, lighting, and paint. The exterior has a new patient parking area, new landscaping, and fresh paint.
"We are beyond delighted to continue expanding access to essential primary care in our Harrells community," said Pam Tripp, CEO. "For nearly two decades, CommWell Health has provided essential primary care to the Harrells community and surrounding communities in Sampson County. The renovations will allow for new and returning patients to access affordable quality healthcare through CommWell health  for years to come."
The CommWell Health Harrells location provides a range of primary care services; primary medical care for children and adults, behavioral health virtual visits, DOT physicals, school physicals, Express Discount Meds Home Delivery Pharmacy service with free shipping, Virtual Online Urgent Care visits, and much more. The Harrells location is currently located at 194 Tomahawk Hwy, Harrells, NC 28444. With the new and improved renovations, Harrells has new hours of operation; Monday, Tuesday, Thursday 8: am to 5:30 pm, Wednesday 8:00 am to 5:00, and closed on Friday's.
"We are excited to share the new renovations with our current families and also welcome new patients seeking primary medical care," states Keven Zibelin, FNP-C, CommWell Health Lead Medical Provider. "We are so excited to offer the community of Harrells a state-of-the-art facility to receive their medical care in. The staff of Harrells is so excited to be coming back to our beautiful home office and get to take care of our favorite people! We have really missed serving the community of Harrells during our renovation, but we are BACK."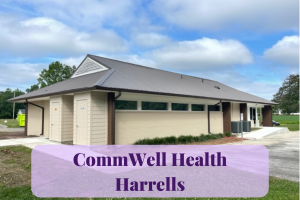 To schedule a medical, dental, or behavioral health appointment with CommWell Health, call 1-877-WELL-ALL (1-877-935-5255).