By Liora Engel-Smith
As the growing season ramps up in North Carolina, agencies that care for and about migrant and seasonal farmworkers are hastily preparing to screen and educate them about coronavirus.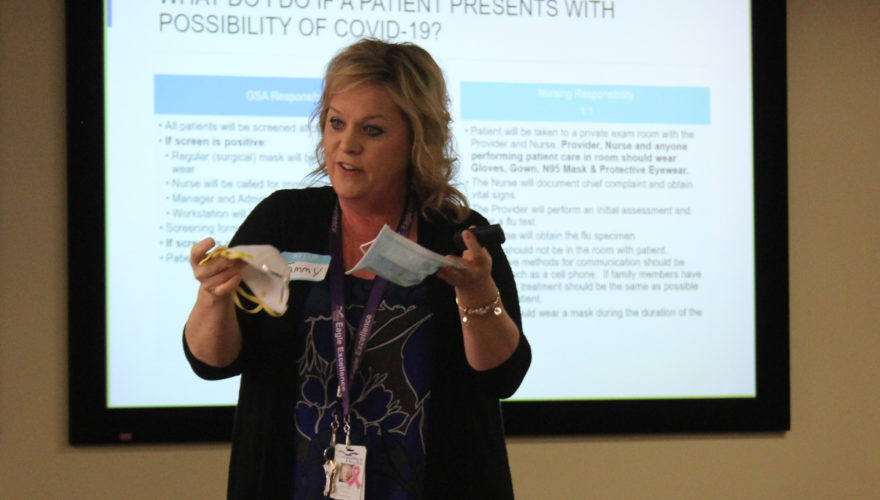 Migrant workers aren't especially susceptible to coronavirus, but their living conditions during the growing season — trailers and rooms that house many workers — could put them at greater risk of catching the virus, 
which spreads through droplets, close contact and surfaces
.
Got a question about COVID-19? You can ask us and we'll try to find an answer!
Click here.
"They all share the same bathroom, they all share the same kitchen, they're all usually within the same living area," said Amy Elkins, an outreach worker at 
North Carolina Farmworkers' Project
, a Benson-based organization that serves an average of 3,000 migrant and seasonal workers a year. "So if we have one case inside a camp, it is most likely that everyone is going to be infected." At a press conference in Raleigh on Thursday, an official from North Carolina Farmworker Health Program expressed a similar sentiment. According to the program, as many as 
80,000 seasonal and migrant farmworkers were in the state 
in 2017 and 50,000 of them were migrant workers, the official said. Many of them live four and five to a room, she added. During peak growing season that year,
 every county in the state
 had seasonal and migrant workers, according to a recent paper in North Carolina Medical Journal, with Sampson and Duplin counties leading the pack with more than 12,000 seasonal and migrant workers.
https://www.northcarolinahealthnews.org/coronavirus-coverage/
Coronavirus has edged closer to that farming area this week, as the N.C. Department of Health and Human Services announced on Thursday afternoon that a total of 15 people, including a person from neighboring Johnston County, tested positive for the virus.
On Wednesday, a group of organizations that serve seasonal and migrant workers held an emergency meeting to discuss the potential impact of coronavirus on these populations. The meeting, organized by 
CommWell Health
, a community health center that serves Sampson and neighboring counties, brought together outreach organizations, the local school system and representatives from the North Carolina Office of Rural Health. "We felt like it was necessary for us to go ahead and pull together as a safety net for our farmworkers, our migrant workers, our immigrants, everybody in our community," said CommWell CEO Pam Tripp. Pam Tripp, CEO of CommWell Health speaks at a meeting the community center organized on COVID-19 and its potential impact on migrant and seasonal farmworkers. "We're a little bit different in rural America," Tripp said. "We need to look out for each other, and we need to take care of everybody, our whole community." Photo credit: Liora Engel-Smith. Those who attended have discussed the multitude of challenges ahead, from educating farmers to responding to suspected coronavirus cases quickly and effectively. Elkins, for example, said her organization does not have access to masks for their staff. Her colleague, Janeth Tapia, the organization's outreach coordinator, said that migrant farmworkers are used to working through illness and are reluctant to reveal that they are sick for fear of being sent to their home countries before the end of the growing season. "That's something we see a lot," Elkins said. "We'll have someone who just gets pneumonia or hurts their foot and can't work. The farmer will give them one or two days and (if the employee does not recover) he's on a bus back to Mexico." Outreach workers have very little control over what they encounter at a camp, said Gena Byrd, nurse supervisor at Greene County Health Care Inc., an organization that serves roughly 4,000-5,000 people a year, including migrant workers, through outreach and at its clinic. "The camps are different," she added. "I might have a trailer that has seven to 10 guys, I might have a camp that has 300 guys, it may have two guys to a room. I've been at camps that might have 10 guys to a room. … We just have to work with what they have and go from there." Not every camp has an area to isolate a potential coronavirus case, Byrd added.  And reaching out to workers and farmers with the correct information is an important priority, she added. "It's an unknown," she said. "Right now, there's really no treatment except supportive treatment. We encourage education as far as covering your cough, handwashing, not shaking hands and things like that." source: 
https://www.northcarolinahealthnews.org/2020/03/13/for-migrant-workers-in-nc-coronavirus-may-be-hard-to-avoid/