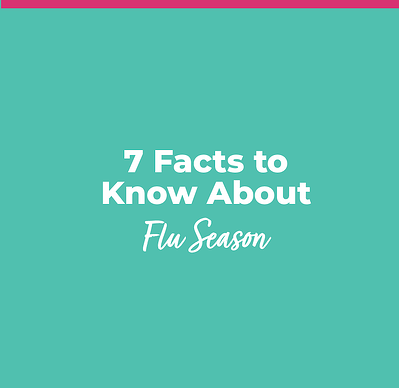 The flu season is back again.
Nobody wants the flu, and public health officials are already warning this season is likely to be moderate to severe. Since the flu viruses can cause mild to severe illness, it's important to be as prepared as possible by understanding the facts about the flu and how the body responds.
The most common flu signs and symptoms include:
Sore throat
Cough
Runny or stuffy nose
Fever (not everyone gets one)
Muscle or body aches
Headaches
Fatigue
Want to know more about this year's flu season? Here's a look at some of the facts about the 2019 flu season and what to expect:
1. Some Flu Vaccine Shipments are Delayed
Some areas in the U.S. may find the flu shot shows up a little later than normal. According to a recent Medical Economics article, some flu vaccine shipments will be delayed but it shouldn't cause any shortage overall. All final shipments should arrive by November at the latest. Call your doctor's office to see when they expect to get flu vaccine shipments as every office is on a different shipment schedule.
2. Expect a Moderate to Severe Flu Season
Public health officials watch how Australia's flu season unfolds to get an idea of the U.S.'s flu season's potential patterns. This year, Australia's flu season peaked a month earlier than it normally does. A similar pattern is proving to be true in the U.S. as states like Arkansas are already reporting flu cases. Doctors are encouraging patients to consider flu shots as early as mid-September this year.
3. Two Weeks is the Magic Number
Since flu season is coming up sooner rather than later, it's best to get your flu shot as soon as you can. If you're noticing your community is getting hit by the flu hard already, consider getting your shot ASAP. It takes about two weeks for your immunity to build up once you've gotten the shot, so the sooner you're protected, the better.
4. It's Never Too Late for a Flu Shot
While getting your shot earlier in the season is best, you can get the shot later in the flu season, too. As long as the flu is circulating in communities, you still run the risk of catching it if you're not vaccinated. Even if you've already gotten the flu, there are multiple strains that can knock you down again throughout the season. Some physicians' offices will offer the vaccine through the spring.
5. A Live Nasal Spray is Available
Hate needles? If you usually avoid the flu shot because needles scare you, there is also an option for a live attenuated influenza vaccine (FluMist) that's a nasal spray. It's safe for those who are between two and 49 years old. However, the FluMist may be limited due to manufacturing constraints for the 2019-2020 flu season. If you prefer the nasal spray, try to get into your doctor's office ASAP.
6. Flu Seasons Normally Starts in October
Get yours shot before the end of October, if possible. As soon as your doctor's office has it, consider scheduling an appointment to get it done since it takes time to build the immunity needed to fight off the flu. Peak influenza season is usually in February, but you can catch it at any time during the flu season. Want to vaccinate your whole office? Set up a flu shot clinic to make it easier for your employees to get protected.
7. The Flu Shot Won't Give You the Flu
No, the flu shot will not give you the flu. The shot contains the dead virus, so it can't cause the flu to the individual receiving it. However, if you have certain health conditions like an egg allergy or Guillain-Barré syndrome, talk with your provider before getting the shot. The most common side effects of the flu vaccine include soreness, redness at the injection site, and a low-grade fever.