The North Carolina Community Health Center Association recognized Pamela Tripp, CEO as a winner of the Robert J. Greczyn Jr. Community Health Leadership Award during the association's Primary Care Conference in Winston-Salem, June 9, 2017.
The Robert J. Greczyn, Jr. Community Health Center Leadership Award was established by the Blue Cross and Blue Shield of North Carolina (BCBSNC) Foundation in partnership with the North Carolina Community Health Center Association (NCCHCA) to honor Bob Greczyn, CEO Emeritus of Blue Cross and Blue Shield of North Carolina and former Chairman of the BCBSNC Foundation.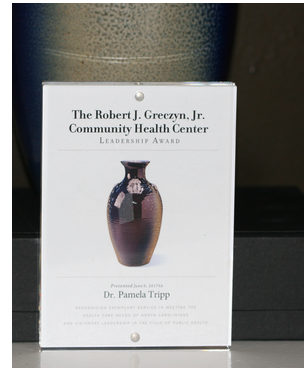 It is given annually to recognize a community health center professional excelling in service to his or her fellow North Carolinians in the field of public health and primary care that grants a prize of $25,000. "Ms. Tripp has been instrumental in securing safety net support and developing a comprehensive, coordinated system of high quality integrated primary care for residents of southeastern North Carolina communities," says Ben Money, President and Chief Executive Officer of the North Carolina Community Health Center Association.
Under her leadership, CommWell Health developed the Kids in School Health Care Initiative and Partnership (KINSHIP) offering dental care to public school students in grades K-12. CommWell Health received dual re-accreditation in ambulatory care and behavioral health and re-certification as a Patient Centered Medical Home.
CommWell Health successfully achieved Level 3 Patient Centered Medical Home certification from the National Committee for Quality Assurance. During Ms. Tripp's tenure as CEO, CommWell Health has received 50 state and national awards for innovation, service excellence and best practices in integrated, multidisciplinary primary care.
Since Ms. Tripp became CEO, CommWell has added three primary medical, dental, behavioral health, HIV/AIDS access points in Johnston County, a behavioral health crisis walk-in center in Sampson County, two primary medical, dental and behavioral health practices in Brunswick County, and a transitional living facility in Wayne County.
Ms. Tripp, who serves as the Chief Executive Officer, refers to herself as the Chief Encouragement Officer is a visionary for healthcare excellence in North Carolina and in the nation. Ms. Tripp is the author of her book The Culture Cure: Transforming the Modern Healthcare System, 2016. Her Mastermind guide to her book will be released in the late summer.
Ms. Tripp has dedicated over 25 years of her healthcare career to developing and testing a blueprint for health care leaders to drive organizational excellence and foster colleague personal and professional development. Under Ms. Tripp's leadership, CommWell Health was the first community health center in the nation (2016) to receive Gov.
McCrory's Milestone One Malcolm Baldrige National Quality Award. This year, CommWell Health was awarded the Most Outstanding Rural Health Organization by the National Rural Health Association (NRHA) for excellence in areas of culture, quality, finance and governance as a safety net for the multiple southeast counties served by medical, dental, behavioral health and HIV/AIDS services.