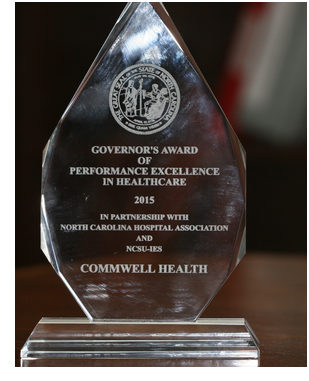 CommWell Health, a large Federally Qualified Health Center serving southeastern North Carolina was recognized for its continuous desire for performance excellence by Governor Pat McCrory at the North Carolina Hospital Associations 2016 Winter Meeting in Cary, N.C. This award marks a very important first step for CommWell Health as one of the first Community Health Center in the nation to actively pursue the prestigious Malcolm Baldrige National Quality Award.
CommWell Health achieved Milestone 1 in the North Carolina Performance Excellence program offered at North Carolina State University, Industry Expansion Solutions. The program is based on the Malcolm Baldrige National Quality Award criteria; a model designed to create and sustain operational excellence.
CommWell Health has begun integration of the Malcolm Baldrige Criteria into its international award-winning Eagle Excellence program, a corporate curriculum that delivers organizational transcendence in quality, culture, governance and finance. 
"CommWell Health has continuously benchmarked itself externally and internally in its insatiable commitment to deliver the best care possible o the communities it serves", said Johnson Tilghman, Chairman of the CommWell Health Board.
For 38 years, CommWell Health has provided primary medical, dental, behavioral health and specialty care to communities in southeastern North Carolina. As a Joint Commission accredited and certified Patient Centered Medical Home model, CommWell Health provides multidisciplinary care using a patient centric, holistic, team based approach to improve patient quality of care and outcomes.
As an integrated care model, CommWell Health partners with their patients – to deliver high quality care that meets and exceeds state and national clinical benchmarks for excellence.
"Our excellence tomorrow is greater than our excellence today", said Sondra Daggett, Chief of Quality. "The desire to pursue excellence arose naturally from the spirit of our learning and questioning environment that feeds itself."
"Our definition of excellence represents a high reliability organization serving all people, and this conviction lies at the heart of CommWell Health's mission", said Pamela Tripp, Chief Executive Officer. This is a core value that resonates among all colleagues throughout the organization." "At CommWell Health we have an Eagle Creed that reminds us that we are the gatekeepers of our destiny, and we encourage each other daily.
CommWell Heath colleagues, in one unified voice, have affirmed their desire to rise above 'average' and to become the best personally and professionally," said Tripp. "That has made all the difference in the quality of care delivered and the prospects for a bright future for CommWell Health.
As a milestone 1 achiever, CommWell Health has begun the process of applying the criteria and identifying areas of strength, opportunities, aspirations, and results to become the first Federally Qualified Health Center in the nation to receive the Malcolm Baldrige National Quality Award.
CommWell Health is a not-for-profit community health center with 15 private practice locations in Bladen, Brunswick, Johnston, Pender, Sampson and Wayne County. CommWell Health offers primary medical, dental, behavioral health services, on-site pharmacy, lab, x-ray and a variety of health coaching, education services and specialty services. Your Community, Your Wellness, Your Health, Because All People Matter.
Visit www.commwellhealth.org or call 1-877-WELL-ALL (1-877-935-5255) for more information about CommWell Health and the services offered and to make your appointment today!