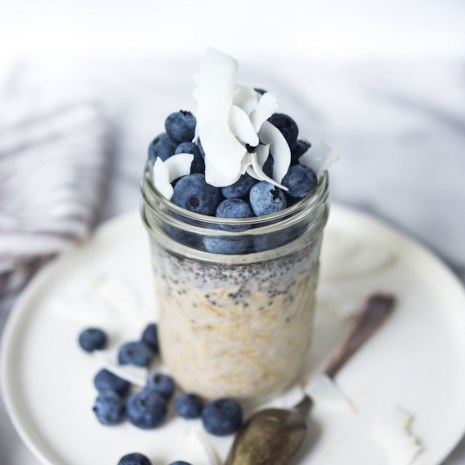 Blueberries, sweet banana and creamy coconut milk combine to turn everyday oatmeal into the best vegan overnight oats! Make up to 4 jars at once to keep in the fridge for quick grab-and-go breakfasts throughout the week.
Ingredients
½ cup unsweetened coconut milk beverage
½ cup old-fashioned oats (see Tip)
½ tablespoon chia seeds (optional)
½ banana, mashed
1 teaspoon maple syrup
Pinch of salt
½ cup fresh blueberries
1 tablespoon unsweetened flaked coconut (optional)
Preparation
Prep: 10 m
Ready In: 6 h
Combine coconut milk, oats, chia seeds (if using), banana, maple syrup and salt in a pint-sized jar and stir. Top with blueberries and coconut, if desired. Cover and refrigerate overnight.
Tip: People with celiac disease or gluten sensitivity should use oats that are labeled "gluten-free," as oats are often cross-contaminated with wheat and barley.
To make ahead: Refrigerate for up to 1 day.
source: http://www.eatingwell.com/recipe/268085/blueberry-banana-overnight-oats/